Thank You for Visiting PEMusicStore.com!
1-Year Extended Warranty Program:
Paul Effman Music Store will extend the manufacturer's warranty on any new band instrument purchased at PEMusicStore.com for one year.
The extended warranty will be duplicative in terms and conditions as that of the original manufacturer's warranty. Customer is responsible for shipping charges.
NO hassle and NO fine print!
PEMusicStore.com Ground Shipping Times (for UPS shipments):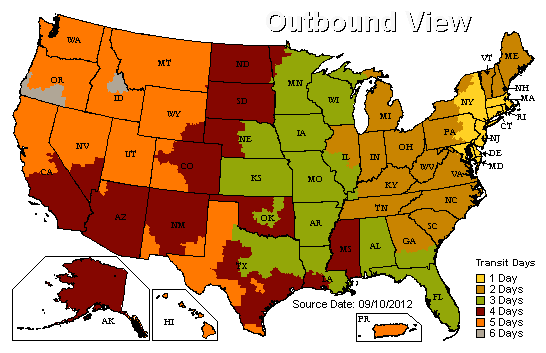 PEMusicStore.com Ground Shipping Times (for USPS Priority shipments):
When flat-rate shipping is selected, we may choose the method of shipping. Items shipped via USPS Priority mail should arrive in 2-3 business days (regardless of location in 48-states).
PEMusicStore.com Ground Shipping Times (for USPS First Class shipments):
Orders under 14oz will ship via USPS First Class Mail when the flat-rate shipping options is selected. First Class mail may take up to 7-10 days depending on location, but they are often received in 2-3 days.
Return/Exchange Policy
Having to return or exchange an item when shopping online is always a possibility. Although reasons for return or exchange may vary, it is our goal to make these processes as simple as possible. If you ever have any questions or concerns regarding an item, please do not hesitate to call us toll free at 1-877-88-HYSON (49766).

Paul Effman Music accepts returns on most items within 30 days of the date of purchase. All items eligible for return require an RMA (Return Merchandise Authorization) number. Please call our toll free number at 1-877-88-HYSON (49766) for further information.
For a full refund to be processed, the merchandise must be returned in the condition in which it was sent. Returns with missing items or damaged parts may only be eligible for a partial refund or no refund. Some exclusions may apply.
Refunds may be issued, less shipping, once the item is received at the address below:
PE Music- Returns/Exchanges
1131 Route 55
Suite 2B
Lagrangeville, NY 12540
A restocking fee may apply to certain returns. Please call 1-877-88-HYSON (49766) for details.
Paul Effman Music Store stands behind every product we sell. Any product that does not perform to its specifications due to faulty manufacturing may be exchanged. Exchanges will be issued for identical items on any merchandise returned within 30 days of purchase, free of charge. The customer is responsible for return shipping. Some exclusions may apply. Certain products are ineligible for returns due to sanitary concerns.
Other Policies
Typographical Errors: Paul Effman Music Store is not responsible for typographical errors that may occur within product descriptions, photography, or pricing displayed on PEMusicStore.com.
Free Shipping Offers: Free shipping offers are only valid within the 48-contiguous states.
Stock Status: Hyson Music lists thousands of products on our website. We do our very best to insure our 'stock status' is accurate, however with so many SKU's and various fulfillment centers, errors may occur. Hyson Music is not responsible for erroneous stock statuses.
Special Order Items: Certain special order items may be exempt from our return policy. Please call 1-877-88-HYSON (49766) to inquire if a 'special order item' qualifies for our 30-day return policy.